Safety Summit
The Beef Industry Food Safety Council (BIFSCo) collaborates with the Beef Checkoff Program and other sponsors to host an annual Beef Industry Safety Summit.
This signature event began in 2003 as an opportunity to bring industry safety leaders and scientists together to hear the latest research results, learn about advancements in food safety monitoring and testing methodology, and to openly converse with competitors seeking solutions that will benefit the entire industry. Today, this event continues to be a hallmark event for the industry to gather in a non-competitive spirit and address beef safety challenges.
During the Summit attendees will:

Discuss current safety issues with representatives from all sectors of the beef industry during technical sessions
Gain better understanding of beef-chain challenges, pathogens, and interventions during research results presentations
Network with colleagues, representatives from all industry sectors, government agency staff, and the research community
Determine future courses of action to help each sector enhance the safety of U.S. beef products
Who Should Attend?

This event attracts 200 – 300 of the leaders and top decision makers in the beef safety business. The attendee list reads like the "Who's Who" in beef safety with representatives from all sectors of the industry, including:
Academia
Packers/Processors

Feedlot Managers

Foodservice Operators

Retail Operators

Wholesale/Distributors
Packers/Processors
Sanitation Suppliers

Processors

Research Companies

2022 Beef Industry Safety Summit
Registration
The 2022 Beef Industry Safety Summit will be held in Denver, CO at the Hyatt Regency Denver Tech Center. Can't attend in person? Please register for our OnDemand option and you will have access to select sessions of Safety Summit, available for viewing from the comfort of your home or office. Please note that access to the OnDemand features will be available once Safety Summit has concluded.
Hotel
HYATT REGENCY DENVER TECH CENTER
7800 E Tufts Ave
Denver, CO 80237
---
2022 Beef Industry Safety Sponsorship
We are grateful to host the 20th anniversary of the Beef Industry Safety Summit, February 28th – March 2nd.  The content planned by our team and the Beef Industry Food Safety Council (BIFSCo) Executive Committee will once again provide critical updates, thoughtful discussions, and insights for the continued commitment to improving beef safety.
This year we will have one sponsorship level of $2,500, which will provide overall sponsorship of the meeting, including recognition and logo placement throughout the meeting as well as on the online platform.
If you are interested in sponsoring the 2022 event, click here! When filling this form out, please put 'BIFSCo Sponsor' in the invoice number spot to indicate to that you are sponsoring the Safety Summit event. A receipt of payment will be generated, but if you need an invoice to process, please reach out to Paige Smith. Sponsorship opportunities will close February 16th.
If you have any questions, feel free to reach out to Mandy Carr Johnson and/or Paige Smith
---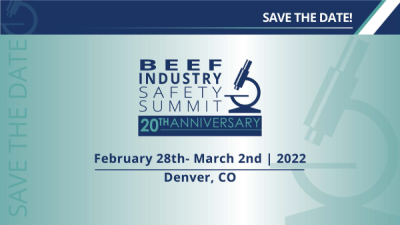 2022 Beef Industry Safety Summit Schedule of Events
Click below to view the 2022 Schedule of Events.
---