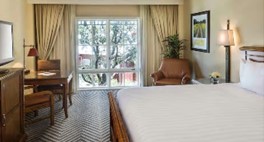 Hyatt Regency Hill Country Resort and Spa - Official 2020 Beef Industry Safety Summit Hotel

Note: If you include Tuesday, March 3rd in your search for room availability, the block will appear 'Sold Out.' The main conference does not begin until Wednesday, March 4th and there is still availability that night.

The Beef Industry Food Safety Council contracts for hotel rooms to ensure that you are provided with quality, convenient and affordable hotel accommodations. Please click the link below to reserve your room at the BIFSCo discounted rate:

9800 Hyatt Resort Drive, San Antonio, Texas, United States, 78251
Important Reminders
Book your room by Monday, February 10th, to receive the BIFSCo group discount. The cut-off date is your last chance to book rooms at the conference rate.
All hotel rates are subject to state, local and occupancy taxes.
You may cancel your reservation 72 hours before your arrival without charge.
Top 5 Reasons to Reserve Your Hotel Room Within the Official BIFSCo Housing Block!

Rate Assurance: The official hotel provides the best value for your money, and you can be assured of the level of accommodations you'll receive. Included in your rate is free Wi-Fi, access to the fitness center, complimentary bike rentals, outdoor games and complimentary parking.
No Prepayment of Guest Rooms: BIFSCo will not charge an advance deposit for any reservation
Save Time and Money: Online housing system for making reservations, changes and cancellations and the meeting is onsite, eliminating transportation costs!
Networking Opportunities: Stay with fellow Beef Safety Industry colleagues
Rest Easy: Know that we are ready to assist and protect you regarding any hotel issues that may occur before, during or after your stay
Special Requests

If ADA (American's with Disabilities Act) special assistance is required, please indicate this on the hotel reservation form or directly notify the hotel holding your reservation. If you have other special requests (i.e. floor location, or close to elevators) please use the "Special Needs or Other Request" area on the reservation form. Special requests cannot be guaranteed; however, hotels will do their best to honor all requests. Hotels will assign specific room types upon check-in, based on availability.
Important: Beware of Housing Pirates!

Please be vigilant with any companies or services other than BIFSCo that imply or claim an affiliation with the Beef Industry Safety Summit. We have been made aware of other housing companies that may be aggressively pursuing you, or your organization, to book you sleeping rooms through their company at supposed significant discounts. Unfortunately, meeting attendees have fallen prey to these companies and have either: lost their significant deposits; been relocated with little or no warning; not had the sleeping room(s) they thought they had booked; or not received reservations at the hotel they thought they were confirmed. This can cause great hardships and significant financial loss to these companies and individuals. Reservations made through an agency other than BIFSCo will be at your own risk. If you are contacted by another housing company attempting to sell hotel rooms, please notify us at bifsco@beef.org.
The following companies have previously solicited attendees for hotel rooms and should be ignored:
BME Business Travel

Business Travel Experts

Convention Housing Authority

Convention Housing Management

Convention Housing Services

Convention Expo Travel

Elite Corporate Planners

Event Connections

Event Plus Corporate

Exhibition Housing Services

Expo Housing

Global Housing Corp

Global Housing Management (GHM Travel)

Golden Events

HDMC Group

IEP Group

International Events

Le Company LLC

National Travel Associates

Progressive Expo Services

Trade Show Housing

Trade Show Planners

Travel Partner International